The E-CPA Show, hosted by the Entrepreneurial CPA, Garrett Wagner, touches on and provides insights to firm and industry leaders on how to build and embody a proactive mindset, and stay up to date on the skills and trends that are needed to run a true firm of the future. As the accounting landscape and accounting profession changes to catch up with other industries and trends, accountants cannot afford to remain stagnant. The show focuses on key points that can help leaders and managers become more entrepreneurial-minded, embrace change, and update the way they approach the accounting profession by investing in themselves.
Of all of the shows on Evolve Now's platform, The Entrepreneurial CPA Show is the original flagship series, as it began in 2018 as part of The Entrepreneurial CPA Channel, and set the foundation for the future of accounting content, and serves as the front for the Entrepreneurial CPA coaching program, run by Garrett himself. Those ready to solidify their place in the future of the profession are encouraged to check out the series, take the E-CPA Assessment, and consider signing up to be coached through the program.
Episodes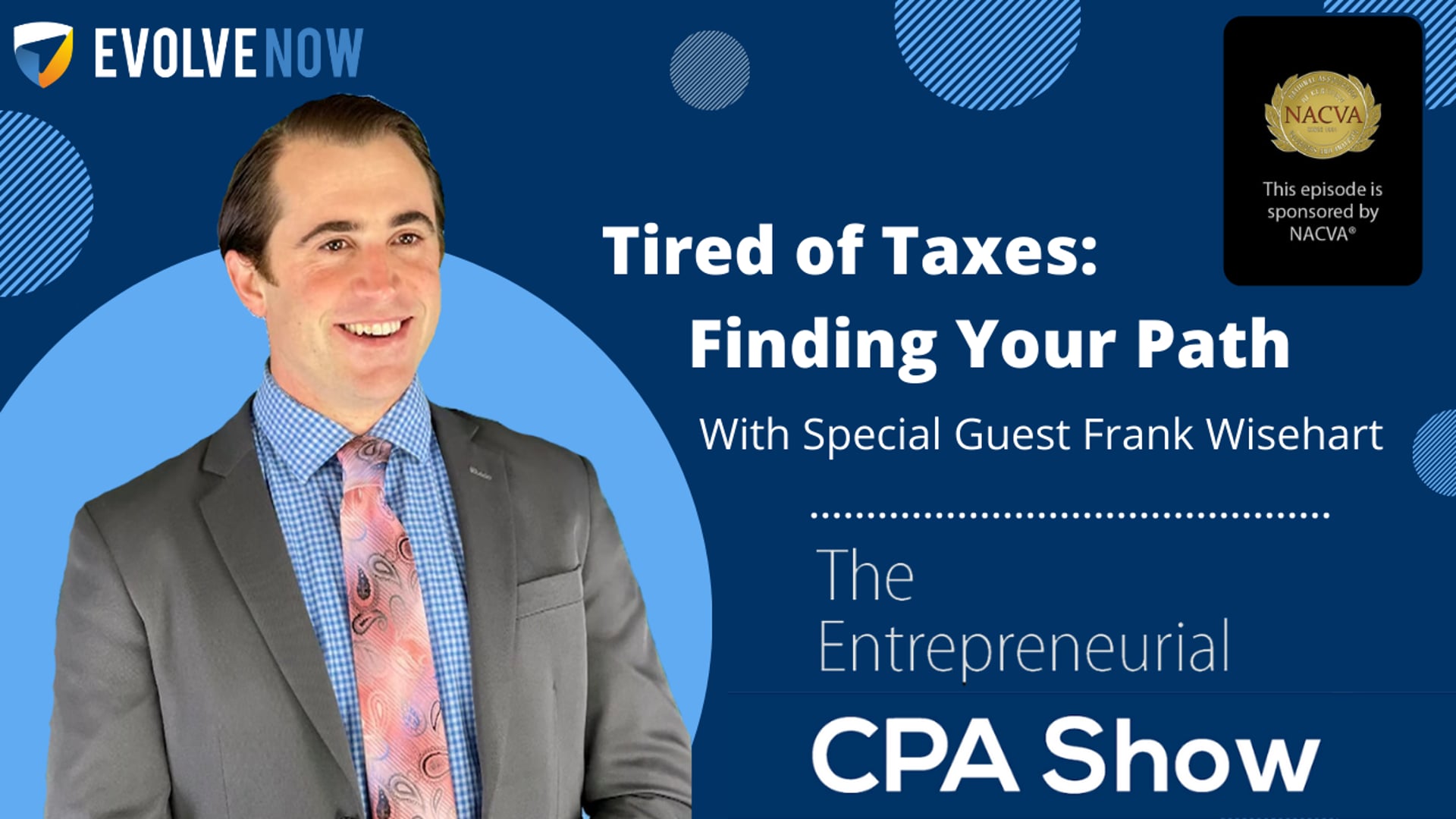 Tired of Taxes? Some accountants never got into taxes in the first place, while others simply grow tired of taxes after doing them annually for a countless number of years. So the big question is - if you don't do taxes, what CAN you DO? Join...
About The Host
The Entrepreneurial CPA, Garrett Wagner CPA/CITP is an industry thought leader on a mission to fuel the entrepreneurial spirit and passion within the industry. With his ability to break free from the traditional CPA box, Garrett has embraced the entrepreneurial mindset and is set on helping others embrace the skills and knowledge needed to succeed.
Garrett focuses on monitoring the evolving technologies and best practices in the industry to achieve the highest degree of success without being afraid to break free from traditional methods. Garrett's background includes working inside successful CPA firms, speaking at conferences and events, and consulting for CPA firms across the country helping them to ignite lasting change by understanding the unique needs of each firm organization.
We know that the public accounting landscape is undergoing a tremendous change and that by focusing on developing the next generation of leaders through education and leveraging technology, any sized firm can be successful. For all things leadership and management training-focused, Garrett is the go-to industry-leading expert. Those interested in being coached through applying the Entrepreneurial CPA skills in practice can sign up to receive mentorship directly from Garrett as part of his E-CPA program.